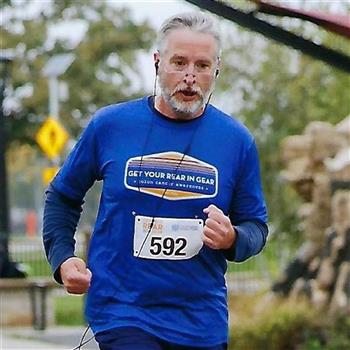 Edit in profile section
My 2019 Get Your Rear In Gear - Milwaukee Personal Page
Peter Fanning
'm participating in the 2019 Get Your Rear In Gear 5K Run/Walk, an event to benefit the Colon Cancer Coalition. When I turned 50 in 2016, my doctor insisted on a routine colonoscopy. 2 Colonoscopies later and after further tests and surgery, turns out I had Stage 1 Colon Cancer. Fortunately it was removed through that surgery and no further spread of the cancer was detected. I want to make a difference for the thousands of people in my community touched by colon cancer, and I want to spread the word about Early Detection far and wide. The funds I raise will stay right here, helping with prevention, early detection and treatment for this disease.

The journey has not been without it's bumps along the way. In 2017 I underwent 4 colonoscopies to correct a stricture in the resection area of my colon. During the 4th procedure the surgeon was able to see the entire colon finally and I received a clear report on my 1 year checkup.

I consider myself EXTREMELY fortunate that my cancer was caught EARLY and removed!!!!! Early detection is key!

I would appreciate it if you considered donating to this cause, one that I am all too familiar with.

Please support my efforts to build hope and beat colon cancer! Thank you in advance for your help.
From the 2016 GYRIG event.......